In this series, I've talked about the structure of our company, purpose-built for responsiveness and risk-taking, and I've enjoyed sharing a bit about our brand, which serves as our rallying cry. In this installment, I'm excited to dive into how we perform the work we do and why it matters. It isn't enough to talk about what we do: Design and Strategy, Cybersecurity, DevSecOps, Data Exploitation, and Digital Platform implementations, because that just doesn't tell the whole story. The technology space is bursting with smart firms, armed with cutting edge tools and methods, so what makes Steampunk different? If you're a government, industry leader or operator, what does engaging with Steampunk look and feel like?
The Answer is Steampunk Design Intelligence®
As I mentioned above, it's not enough to have the best tools. In my experience in and out of uniform, even the most technical of problems rarely have technological or tool-based causes at the root. Much more commonly we as human beings struggle with problems of poor communication, overlooked requirements, lack of buy-in, mismatched expectations, and under-adoption. As rightfully proud as we all can be for building and maintaining the most powerful and well-equipped military force in human history when we think of our community's greatest (and sometimes most comical) failures it's rarely a material failure, a poor tool, or a misapplied technology which are to blame. Those things are symptoms to be sure, but when we dive deeper we go back to those human themes. These themes can't be engineered out, although many have tried. Instead, we must turn to Steampunk Design Intelligence® powered by design thinking to be our guide.
Design Intelligence® is an approach to problem-solving which ensures the human-impacted by the design is primary – and that the influences and constraints upon that human are considered and mitigated. What results is a solution architecture which is not just ready to be built, people are excited to adopt it.
So how is that different from traditional requirements gathering? Isn't that process supposed to include all of those variables? Well, yes, it should, but it rarely does. Traditional requirements gathering is very effective at documenting parts of the puzzle, but it routinely fails to compensate for vital variables that will impact the overall success of the project as it relates to the human's ability to accomplish their mission, not just contractual success.
In our experience, all too often the design capabilities and resources offered to the Defense Department (if, in fact, they're even a part of the solution) are stove-piped from the more tactical technology integration, application development, and infrastructure engineering efforts. Clients are brought into a slick customer visit center to participate in design workshops that paint a great vision, but that vision falls apart in execution because the staff doing the implementation wasn't integrated with the design experts who helped to define the original vision with the client.
That's why our Design Intelligence® approach is structured to ensure we never lose the value of Design and HCD as an iterative process executed by an integrated team from end to end. For us, it's not enough to engage only development or technical teams in the implementation, or conversely to leave them out of the initial design phases. We know that by efficiently engaging critical stakeholders and experts who represent requirements across the business, security domain, data environment, and technology organization throughout the project, we are going to be much more successful in creating and implementing solutions that are practical and will be accepted by the actual mission users. Furthermore, we make sure we understand the external factors that are driving both the opportunities and constraints for our Defense customers. We go so far as to engage experts from academia and other industries as part of our virtual team to offer our clients emerging views on commercially proven innovation, political headwinds, and opportunities, and financial management strategies to ensure the best return on investment. This is the integration that ensures what we build drives real Mission Impact.
Design Intelligence® in Action
Now that we've explored the approach Steampunk brings to the fight, let's take a look at tactical execution in that model. If Design Intelligence® sounds squishy, it isn't! On the contrary, it's the engine we can use to drive better results to the tactical edge with much more speed and "quality the first time" than traditional approaches.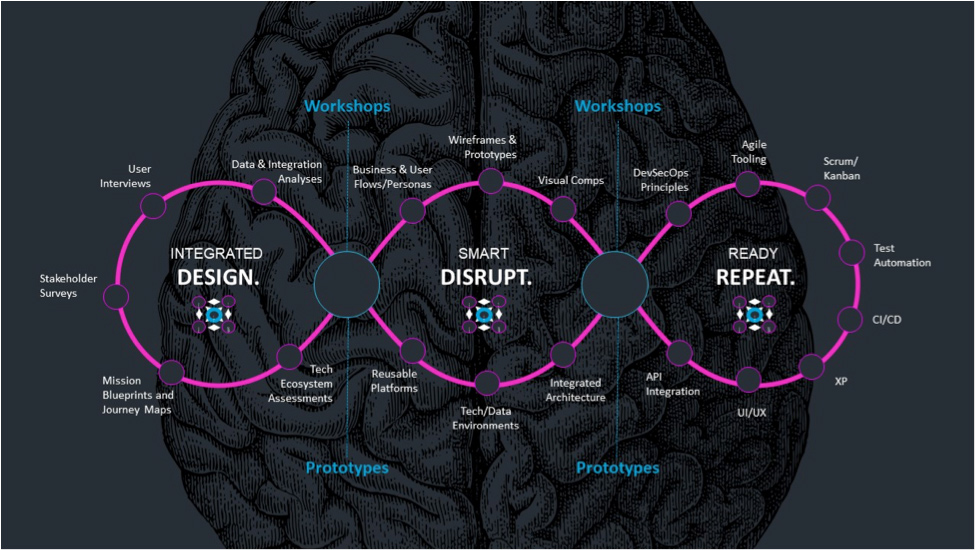 To make Design Intelligence® come to life, we integrate all facets of our client's mission organization, technical environment, data architecture, and security mandates into our implementation so we are better able to identify the real challenges (historical and real-time) and potential opportunities before diving into a technology solution. This starts with real research, assessments and analyses of existing processes, technologies, their stakeholders, and other constraints. The client stakeholders, along with our design and technical teams work together, clearly articulating the challenges (technical and non-technical) so we can agree on the mission impacts we need to measure along the way. We use our Steampunk Design Intelligence Studio® as a focal point for these integrated teams to work on projects, leveraging lessons learned in real-time across all the domains of a problem set. We have an "open door" policy with all existing and prospective clients, so they can get outside their day to day environment, whenever desired, to immerse themselves in our collaborative team space to explore the realm of the possible for their challenges.
For Steampunk, disruption is quite simply about implementing change in a practical way to drive outcomes. We create personas to generate wireframes and prototypes, which are fundamental techniques of smart design – but we differ from a traditional HCD firm. We continually engage the additional internal and external stakeholders we've defined within our research so that we can evolve the design as well as the data, security, and technical components while keeping the political, financial, and environmental constraints always in mind. Doing this in a repeatable way means leveraging smart Agile management principles and DevSecOps automation where applicable, to define acceptance with our expanded set of stakeholder groups as governors of the "definition of done." Our employees are trained on our delivery techniques so that we can bring any resource in to help with a project without missing a beat.
At various stages, starting as early as possible, we hold collaborative workshops to showcase everything from hand-drawn concepts to working prototypes so that each stakeholder can weigh in on the progress and any potential challenges we may not have addressed. These drive improved user acceptance and a practical implementation strategy that should address all the cross-functional environmental variables at play for our customer.
Through this iterative process, we are improving the speed at which we deliver solutions to end-users, while ensuring that all the critical cross-functional stakeholders have had a hand in what the final product should be – driving up acceptance and quality – always in support of the Mission at the tactical edge.
Who's In? Let's Build Something Better Together.
The beauty of Design Intelligence® is in the insights learned early and often enough in the process to allow our technology implementation to really sing. "Compliance" is for tax attorneys – let's build Mission solutions that delight our Warfighters. For centuries designers strove to develop weapons which became a part of the warrior, moving as they moved, becoming an extension of the warrior themselves. Our technological mission solutions should be no different – we had the tools, now we have the plan, let's build something better together. DESIGN. DISRUPT. REPEAT.® Steampunk.