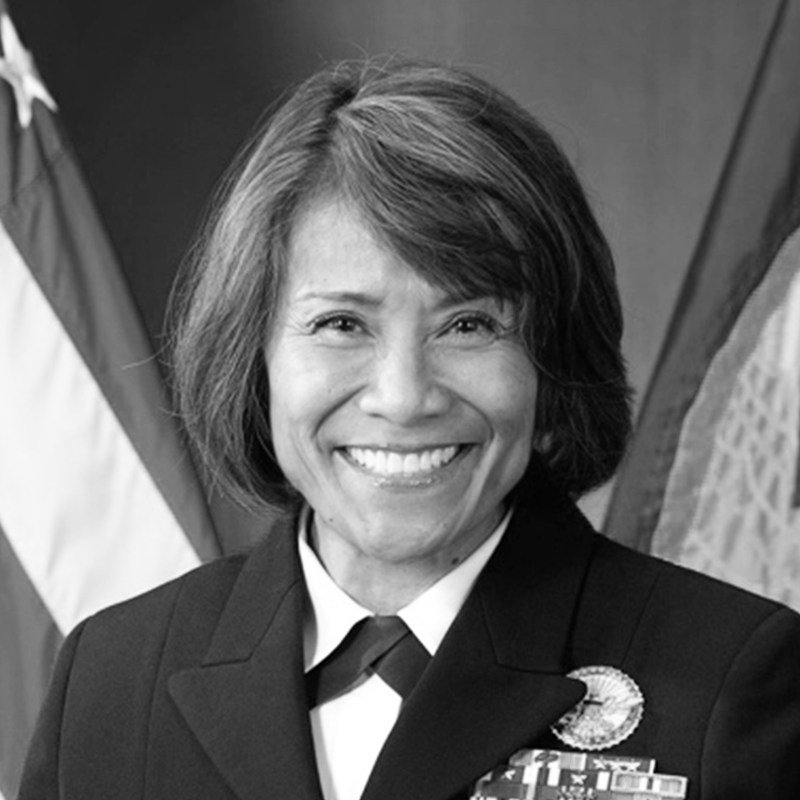 Vice Admiral (retired) Raquel "Rocky" C. Bono, M.D.
Commissioned in June 1979, Dr. Bono received her bachelor's degree from the University of Texas at Austin and M.D. from the School of Medicine at the Texas Tech University Health Sciences Center. She completed a surgical internship and General Surgery residency at Naval Medical Center Portsmouth, and a Trauma and Critical Care fellowship at the Eastern Virginia Graduate School of Medicine in Norfolk, Virginia. She saw duty in Operations Desert Shield and Desert Storm and is the first female Navy medical officer to have achieved three-star rank. As Chief Executive Officer and Director for the Defense Health Agency (DHA), Dr. Bono led a joint, integrated combat support agency that enables all branches of the U.S. military medical services to provide health care services to combatant commands in times of both peace and war. Dr. Bono integrated an unprecedented $50 billion worldwide health care enterprise for the Army, Navy, Air Force, and Marine Corps, composed of 50 hospitals and 300 clinics that provide care to 9.5 million military personnel, oversaw the Department of Defense deployment of the electronic health record, and facilitated the collaboration between the largest federated health systems of the Department of Defense and Department of Veterans Affairs (VA). Dr. Bono currently serves as the Chief Health Officer for Viking Cruises.
Dr. Bono holds an MBA from the Carson College of Business from Washington State University, is a Diplomate of the American Board of Surgery, a Fellow of the American College of Surgeons and a Senior Fellow with the Johns Hopkins University Applied Physics Laboratory. Her personal decorations include a Defense Distinguished Service Medal, three Defense Superior Service Medals, three Legion of Merit Medals, two Meritorious Service Medals, and two Navy and Marine Corps Commendation Medals. Additional recognitions include:
American College of Surgeons Mary Edwards Walker Inspiring Women in Surgery Award (2019)
Federal IT Women in Leadership Lifetime Achievement Award (2019)
Modern Healthcare's 50 Most Influential Clinical Executive Leaders (2019)
Modern Healthcare's 50 Most Influential Healthcare Physician Executives and Leaders (2018)
Modern Healthcare's 100 Most Influential People in Healthcare (2018)
Healthcare Information and Management Systems Society's Most Influential Women in HIT (2018)
Rocky brings Steampunk a unique perspective on leadership, strategic planning, crisis management, mergers and acquisitions, public-private partnerships, and financial management, not only in specific support of our Department of Defense sector, but for all of our Federal Government clients. Her reputation precedes her as a proven thought leader across industry and military joint operations, and we are fortunate to have Rocky and her leadership as part of our team!