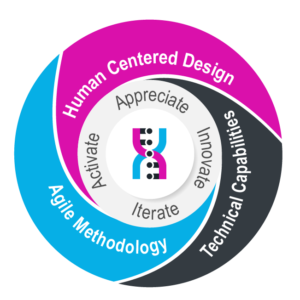 Steampunk's Design Intelligence® Framework is an integrated approach for delivering solutions that incorporate Human-Centered Design into all aspects of the development process. While we apply the framework regularly for our clients, what many people don't know is that we've also been applying the framework internally to re-engineer our internal business operations. The results have been nothing less than extraordinary. In short, we've developed business processes that are more aligned with our culture and values, produced higher employee satisfaction, and increased transparency and efficiency.
Steampunk's recruiting and onboarding process is a great example. A cross-functional team of Service Designers assessed our current process and provided several recommendations for improvement. Highlights of their findings are below:
Managers were asked for duplicative information already provided during the recruiting and onboarding process.
New employees were overwhelmed with the amount of information provided in the first week; they wanted more time to complete onboarding paperwork and training, allowing them to become more attuned to their new project and clients.
New employees were craving deeper insights into company projects and wanted to learn more about their peers.
In the CIO team, we use Agile to manage our work. We broke the findings into user stories and began working across the company to research improvements and implement changes.  We've made hundreds of improvements to the process, but some of the highlights are below:
Information is collected once. Information from our Applicant Tracking System auto-populates our Service Desk and HR systems. Finance, HR, and Marketing have access to consolidated data ensuring candidates and managers are not asked for redundant information.
More time for onboarding. HR Paperwork and IT Training is now spread over the first month to ensure employees have adequate time to focus on absorbing the material, and to ensure they can also spend time getting up to speed on their new projects. Employees are assigned PunkPals to facilitate acclimation.
Improving Collaboration. Employees are automatically added to Slack channels and distribution groups based on their Project, Practice, Sector, and Portfolio. A newly launched Operations portal provides a one-stop location for learning about projects, personas, and technologies used across the company. We've also automated provisioning of IT systems so that new employees have the tools and access they need on day 1.
Applying Steampunk's Design Intelligence Framework has been a great experience and we're looking forward to evolving the enterprise to continue to produce a better experience for our employees and partners. #People@theCore